A mai napon ismételten egy számomra új író
Dani René
Crave
című könyvét hozom nektek, ami a Forbidden Series első könyve.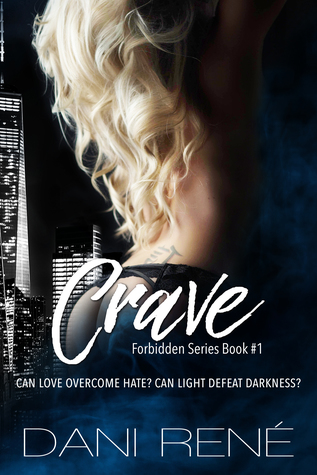 Samael
⠀⠀
⠀⠀⠀⠀⠀⠀⠀
Can love overcome hate?
⠀
⠀⠀⠀⠀⠀⠀⠀⠀
When I first laid eyes on the perfect little blonde, I didn't think she'd change my life. But the first time I tasted her, felt her, took her, I knew she was mine. I laid a wordless claim because as much as I desired her, I couldn't have her.
⠀⠀⠀⠀⠀⠀⠀⠀⠀
I craved the dark, she filled me with light. I loved delivering pain, she craved it. ⠀⠀⠀⠀⠀⠀⠀⠀⠀ Opposites merged by circumstance. Hearts melded by passion. ⠀⠀⠀⠀⠀⠀⠀⠀⠀ ⠀⠀⠀⠀⠀⠀⠀⠀⠀
Angel
⠀⠀⠀⠀
⠀⠀⠀⠀⠀
Can light defeat darkness? ⠀⠀⠀⠀
⠀⠀⠀⠀⠀
I should have feared him. Everything about him was drenched in the darkness he exuded. But one glance into his cobalt eyes, and I knew I was his. My heart allowed him entry, as did my body. And after the first time, my soul recognized his. Desired what he delivered. ⠀⠀⠀⠀⠀⠀⠀⠀⠀
I craved his darkness, he bathed in my light. I submitted to his desires, he craved my very being. ⠀⠀⠀⠀⠀⠀⠀⠀⠀
Running from him wasn't an option. Fate bound us in its intricate pattern. ⠀⠀⠀⠀⠀⠀⠀⠀⠀
*This is a dark romance, suitable for mature audiences, 18+ ONLY. Strong sexual themes and violence, which could trigger emotional distress, are found in this story. Certain scenes are graphic and could be upsetting to some. This story is NOT for everyone. Proceed with caution. Discretion is advised. This is book one of the Forbidden Series, but can be read as a standalone. Each book will feature a different couple. There is NO cliffhanger.
4,5 "The angel and her devil" Star
"I promised you heaven, You gave me hell, I filled you with light, You gave me your darkness, In the maelstrom, Together we find salvation." Dani René
Már az elején figyelmeztetni szeretnék mindenkit hogy ez nem egy cukormázas történet, sőt abszolúte távol áll tőle! Nem hiszed el? Én figyelmeztettelek!
Annyira más volt mint amihez szoktam, mindeközben mégis élveztem. A karakterek, a háttértörténet, a nyers erő néha hátborzongató volt. A legbrutálisabb az egészben hogy ilyen tényleg létezhet valahol. Először vonakodtam, de annyira olvastatta magát hogy lehetetlen volt letenni.
Mi zajlik a zárt ajtók mögött? Kinek a
Pokol
– kinek a
Menny
? Attól függ melyik oldalon állsz.
Samael az ördög sötét angyala kinek Angel hozza a fényt. Hogy ez milyen szép és mégis, te mit tennél ha magával az ördöggel kellene szembenézned?
Beleszeretnél
vagy
Undorodnál
tőle? Csak hogy tudd van hogy a sötétség mögé kell nézni és megtalálni a benne lakozó fényt. Mert igenis megvan benne.